"Entirely unpretentious -
refreshingly honest" - Steve Pete, Charlotte News
Music
| | | | | |
| --- | --- | --- | --- | --- |
| | | | | |
| MP3s: Download @$0.97 | CD: Jane In London | CD: R&B | CD: Making Waves | DVD: live show |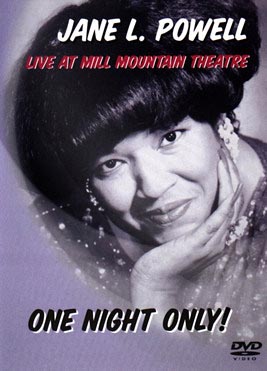 Live at the Mill Mountain Theatre
Live at Mill Mountain Theatre - One Night Only captures Jane and her band at their peak performing classic popular songs from yesterday and today at this very special concert in her home town of Roanoke, Virginia.
This feature length DVD includes personal documentary footage of Jane at home with family and friends along with interviews with band members . It takes you behind the scenes during the taping of a television interview. Also included is a bonus listing of all the musicians who have worked with Jane since 1980.
Price: $29.99
This title is currently out of print
Chapters:
1. Let the Good Times Roll
2. Killing Me Softly (With His Song)
3. Route 66
4. Stand By Me
5. Don't Know Why
6. I Will Survive
7. I'll Take You There
8. Summertime
9. Under the Boardwalk
10. Built for Comfort
11. I Wish
12. What a Wonderful World
Total Run Time: 105:00
Personnel:
Jane L. Powell- vocals
Dave Ylvisaker- keyboards
Cyrus Pace- guitar
Ziad Rabie- saxes
Bernard Hairston- bass
James Jackson- drumset
Wes Crawford- percussion
Produced, edited and directed by Estel Dillno for Dillon Productions. Supervising Produceer and Audio Production by Wes Crawford for Music and Games 4U
Audio Recording by Tom Ohmsen for Flat 5 Press and Recording Company. Audio Mixing and Mastering by Derek Wille for Art of Music. DVD Mastering and Authoring by Persistent Vision Productions. Graphic Design by Wes Schauble for Blue Cashews. Executive Producer Jane L. Powell.